Social Media: the Key Factors in the Generation Gap Brands Can Exploit
Media trends tend to form an ever-changing way of how generations are using different social media channels. What constitutes the generational gap, and how can marketers sort it out?
The differences between generations and how they interact with different social media platforms are essential to marketers while reaching out to their target audience. Behaviors of generations are vastly different between Baby Boomers, Gen X, Gen Y (also known as Millennials), and Gen Z. But what forms the generational gap, and how can marketers sort it out?
Media trends tend to form an ever-changing way of how generations are using different social media channels. The most prominent social media channels for targeting potential customers are Facebook, Instagram, Youtube & TikTok. Although most people tend to think of social media in terms of the most popular platforms, the truth is that the media landscape is much more diverse. Each builds new challenges for marketers as they try to reach their target audience and specific generation.

So if you create content with AI for different audiences, keep in mind the golden rules for each generation.
Points of interest among different generations
When reaching out to a particular generation, marketers should consider that the points of interest are significantly different. Younger generations such as Generation Z, Millennials, and Generation X use social media more frequently than Baby Boomers.
Baby Boomers are also known as big spenders. They tend to be old-fashioned, yet they make a significant economic impact as they stay in the workforce longer. Boomers formed their points of interest while watching Millennials grow. The most powerful tool to reach out to Baby Boomers is Facebook. It's the most popular social media platform among this generation, and there are vital points on how to interact with boomers successfully:
Videos over Photos. Not only when reaching out to Baby Boomers, but it's always a better choice to put up a video. Showcasing the product or service in a video will draw more attention as it is more dynamic than a photo. Keep in mind that 85% of the videos on Facebook are watched without sound, so it is advised to include captions in large typography to help viewers follow along.

Keeping things short (or not). Although boomers are more likely to watch longer videos, a more concise video may provide the same value within the less time consumed. It may follow a faster lead or a call to action if the viewer is interested. But keep in mind that the mid-sixties generation will browse through more before making a decision. In this case, there should be clear links to policies and documentation and easy access to email/phone support.

Preferences. In terms of the old-fashioned behavior, it's leading Baby Boomers to be highest amongst all the generations shopping in-store - with almost 84% of the generation. They are more likely to check the product's availability online and go to buy in physical stores.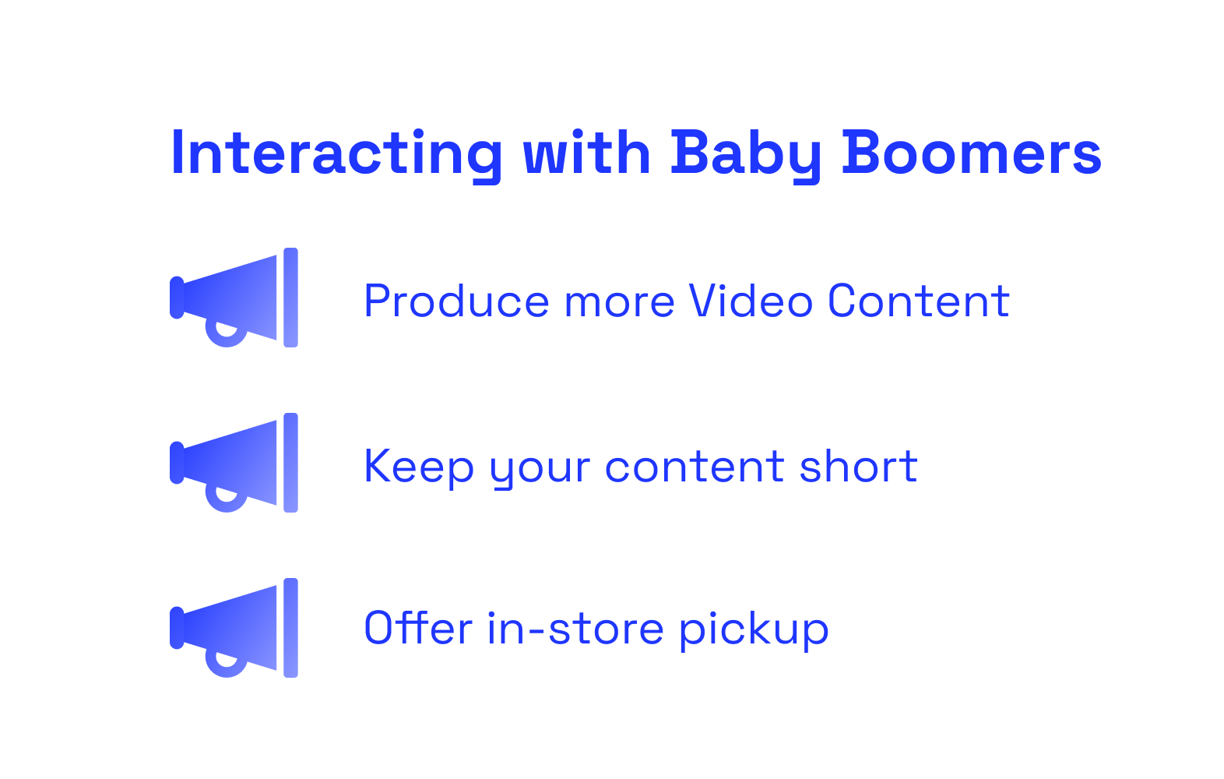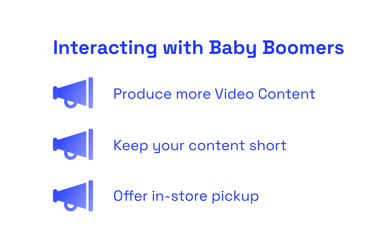 Millennials, also known as Gen Y, dictate the commerce landscape. We're talking about the largest workforce, spending up to $600 Billion a year (and growing). However, with great power of purchase, they tend to research before actually purchasing anything.
Focusing on user-generated content and social selling rather than traditional ads. Less than 1% of Millennials are actually influenced by paid ads, yet marketers spend a ton of money to reach them with a promotional offer on social media. Gen Y will more likely rely on blogs or actual customer reviews before making a purchase.

Standing out is essential. With every purchase, they want to make an impact. Edelman's Trust Barometer 2020 found that 64% of today's customers are belief-driven buyers. They think that brands can be a powerful tool of change, and if the business is supporting a good cause, they are more likely to purchase their product.

Gen Y is invested in quality as well as the price. More than two-thirds of millennials say they would switch brands if they are offered a discount, proving that Gen Y loyalty is still quite fragile.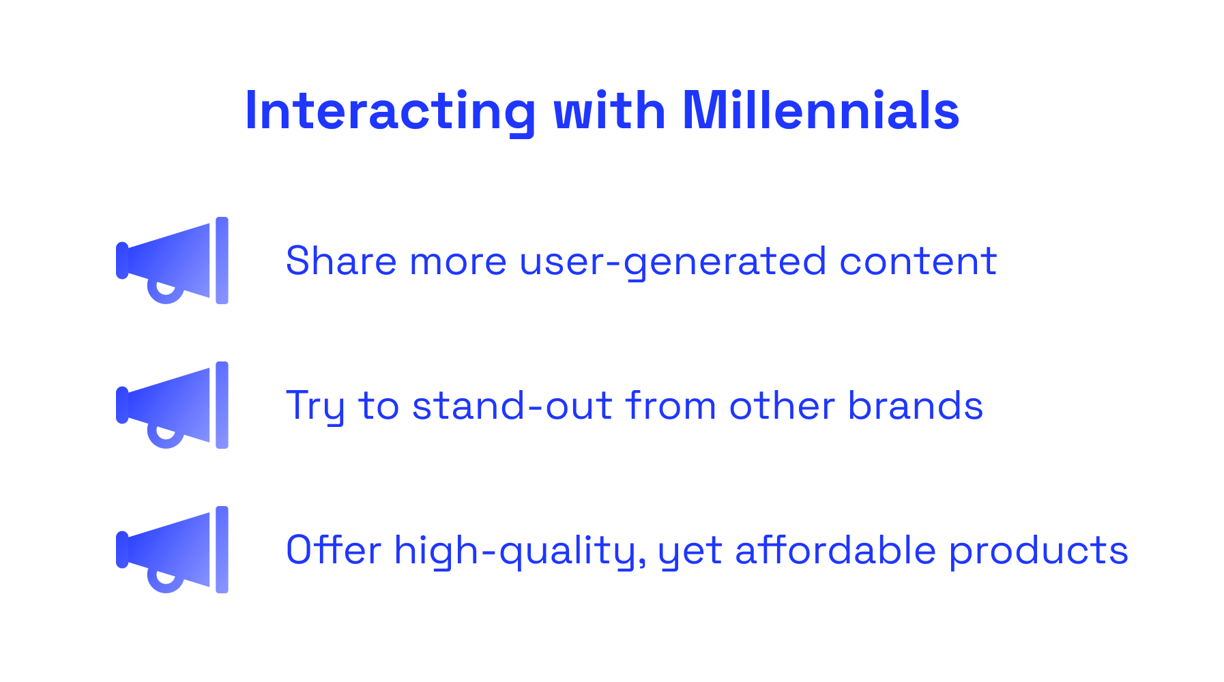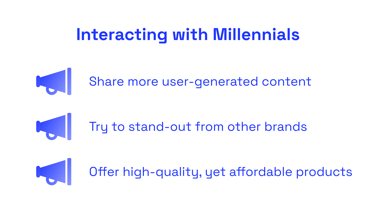 Gen Z, also known as the social media generation, holds a lot of sway over the market, although their purchasing power could be near zero. The generation that grew up with the internet is fast-adaptive yet hard to attract. And social media is making an enormous impact on influencing the youngest generation. However, if the brand or product is relevant to Generation Z, parents are ready to pay for their desires. The study says that children influence 93% of household purchases. Gen Z tends to use TikTok, Instagram, and YouTube more than Facebook or Twitter. The concentration of the older generation is more prominent on the most popular social media platforms, and Gen Z wants to have its own space.
Authenticity is the key when reaching out to youngsters. They want to be unique, so they expect the same from the brand they are interested in. Businesses have to be honest and transparent. The majority (77%) of Gen Z prefers real people and situations while seeing ads.
The world revolves around the mobile phone. Gen Z spends twice as much time on their phones compared to millennials. That is why reaching out to the youngest generation, the website, product, or service must be optimized for mobile.

Clarity & ease of use. When the world is at your fingertips, Gen Z doesn't want to spend a lot of time understanding the importance of the product. The early half of Gen Z says that the essential thing for clicking the ad or shopping is understanding and finding things quickly.

Email address is not useful anymore. Generation Z is focusing on social media presence. They can easily shop through social media platforms, and it does not require an email address.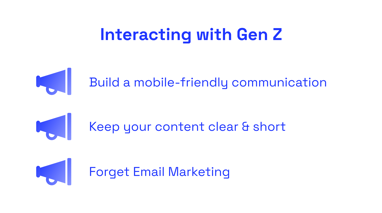 Gen X — the second generation sorted out by age is often called the decision-makers. They prefer businesses with honest communication and clear marketing messages, which will leave them on an easy path to purchase. However, they prefer shopping in person than online, so to spark an interest in Gen X online may require some severe marketing tricks.
It's still recommended to use Facebook when reaching out to Gen X. Like mid-sixties, Gen Xers tend to first follow the brand on social media before purchasing their products. However, they are also spending more and more time browsing (or even creating) YouTube content. Therefore, a handy combination of Facebook and YouTube could be a great way to reach out to stores. While marketing out, follow up on the primary keys:
Quality & Quantity combination. Up to 32% of Gen X is engaging with the brand they follow. If Xers are your business's target audience, use it to advance and increase engagement by uploading more frequently while still maintaining fundamental values.

Searching for contests, deals & promotions. Marketers know that the audience collected through contests on social media platforms won't be as engaging as an organic one. But it may attract a lead of Gen X. In the survey provided by Sprout Social, Gen Xers are more invested in contests (41%) and promotions (58%) than entertainment value or some kind of information.

Maintaining positive interactions could also lead to the heart of Generation X. "Rise and shine" messages may not be the ones to generate a lead to the website or make a potential customer purchase a product/service, but it can increase the overall positivity on how the potential customer sees the brand. And positive interaction combined with the promotional offer will surely make up for Gen X's decision.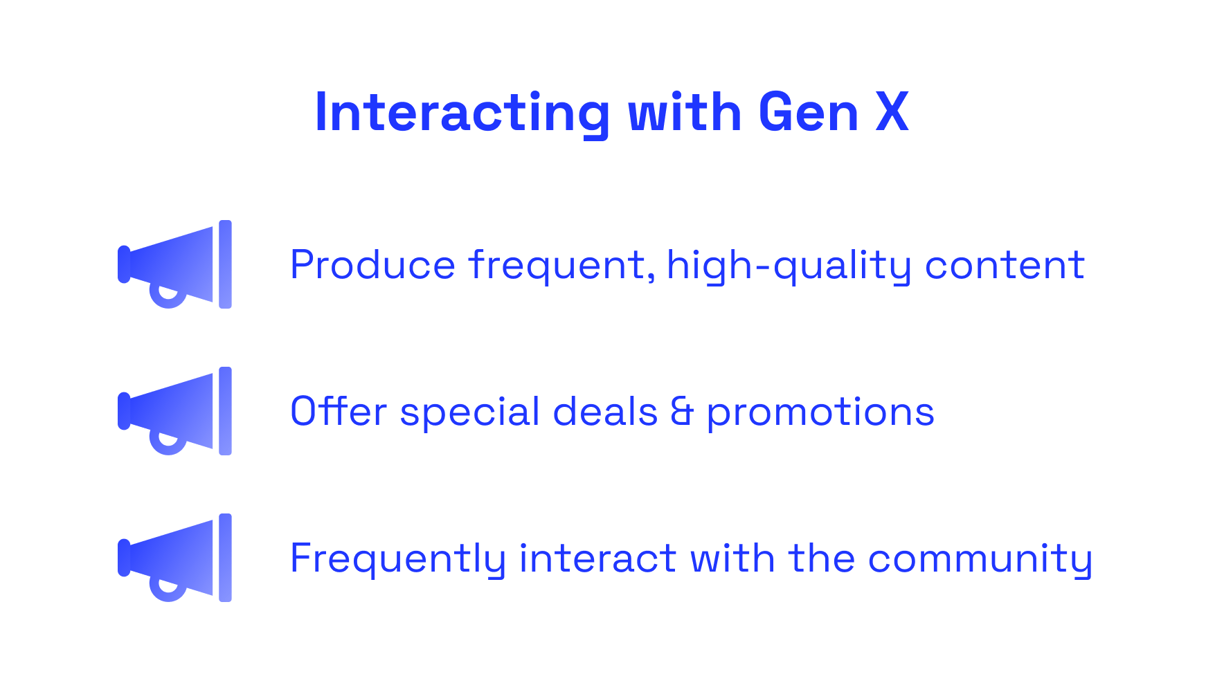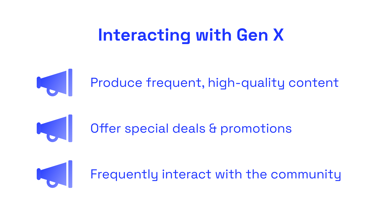 Conclusion
Brands are starting to use social media platforms as their primary marketing channels. On a strategic level, it's clearly the best investment, and on a tactical level - easy to analyze. Brands that focus on learning about their audience in the context of multiple social media channels reap the benefits of increased sales and effective marketing spending. This knowledge will become invaluable after the changes to 3rd-party cookies. An in-depth understanding of each generation's social media use will give the brands a real chance to approach potential customers without much guesswork.